Workshop Goal: Parents will learn how to take an active coaching role, during the various cyclical stages of their child's career development, through the exploration of workforce trends, self-assessment, career options, goal setting, and the use of various career-coaching tools. In turn, this will empower their children to perform self-directed, effective career planning throughout their life to achieve personal career success.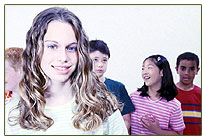 What colleagues are saying:
"As a parent of a 14-year-old, who is asking the questions you presented, this not only completely covers the issue(s), but also allows parents to address their own issues and expectations (in a way that is good for their children)."
"You did a wonderful job on this. Very thorough, and I like the mix of role play, case study, and self-reflection. I wish my parents took your class and gave me a magic wand..."
"Frankly, this would be a great course for any age..."